Introduction to OSRAM Projector Lamps/ Bulbs
As one of the best-selling projector lamps/ bulbs, OSRAM P-VIP® Projector lamps/ bulbs are impacted by many counterfeit lamps. Some of them are very easy to identify, but others are not. No one can guarantee the light performance of those counterfeit P-VIP® lamps/ bulbs.
For decades, OSRAM has been committed to providing premium lighting products to the global market. Our mission is to optimize production processes, strengthen quality control and increase customer satisfaction to brighten your screen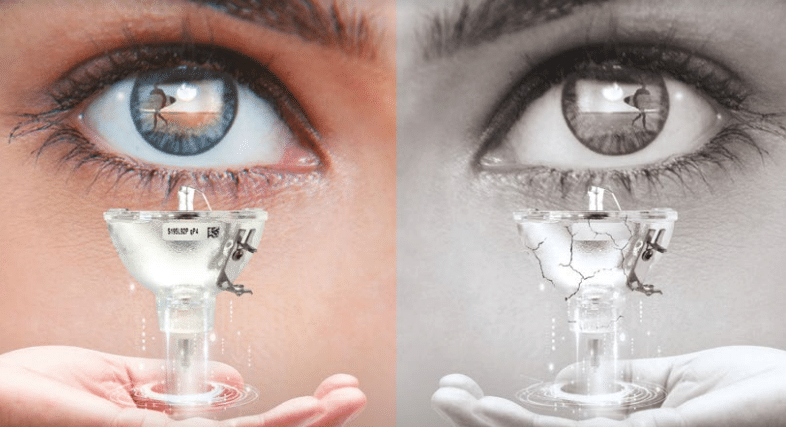 Counterfeit of P-VIP® Projector lamps/bulbs have up to 30% less initial brightness.
OSRAM picked several counterfeit lamps from the market for testing. The result was very surprising. The gap between the initial luminance of counterfeits and OSRAM original P-VIP® projector lamps/ bulbs can reach 30% in the worst situation. Too low brightness can make visible defects on the screen. For instance, you may find a blurred subtitle when watching a movie or have difficulty in seeing the projected slides clearly when presenting at a meeting.

Electrode gap- the main cause for insufficient brightness in projection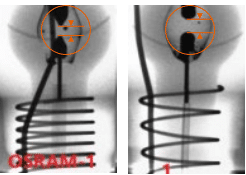 In lamp technology, electrode gap and brightness are strongly related. A smaller electrode gap yields higher brightness. It is also optimal to have consistent electrode gaps between the same type of lamps. OSRAM performed a sophisticated test on electrode gap to prove that counterfeit brightness levels were less than OSRAM P-VIP® Projector lamp/ bulb levels. The test result shows that the electrode gap of counterfeit projector lamps/ bulbs is larger than OSRAM lamps by 30% on average, which undoubtedly indicates a much lower brightness. As shown in the graph, the deviation of electrode gap among OSRAM projector lamps/ bulbs is well-controlled and less than counterfeit lamps.
Counterfeit lamps typically have inconsistent light optics across the screen
When presenting with projection, not only vivid colour but uniform brightness distribution all over the screen is the key to the visual feeling. Besides the projector lamp/ bulb itself, OSRAM takes great care in many application details such as how the lamp perfectly integrates into each projector system to ensure uniform and stable optical output on the screen. This optimization of optics is what the counterfeits of P-VIP®projector lamps/ bulbs cannot replicate.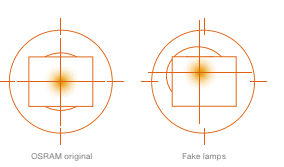 Poor maintenance and reliability of a counterfeit of P-VIP® projector lamps/ bulbs
The endurance of a light source impacts a lot on your practical usage, in a way of functionality and performance. We had a lifetime test with fake lamps and obtained a negative result.
Besides the lower initial ongoing brightness over the lifetime, the brightness of counterfeit lamps degrades more rapidly than OSRAM P-VIP® projector lamps/ bulbs with the same duration. Until the end of our limited testing time, the luminous flux of counterfeit lamps is much lower and even far below the level of practical use.
We also found the fake lamp shattered in the test and this bad reliability would induce potential risk to the user.
Counterfeit lamps pale in comparison to OSRAM P-VIP® projector lamps/ bulbs
We produce every burner, the key part in OSRAM P-VIP® projector lamps/ bulbs, in our Berlin, Germany factory. The burner tube is made of high purity quartz glass, which is capable of stable operation using high-pressure mercury up to 300 kPa for a long time. Our factory's automated machinery and high levels of quality control ensure that all burners are produced to strict specifications. It requires high precision and accuracy while assembling a lamp in our production line so that we can optimize luminous flux and specific optical distribution for projector use.
For proper functionality, we carefully evaluate the reliability of raw materials in the condition of operation and storage. In particular, special ceramic rings and basing cement were chosen for their ability to withstand high temperatures and humidity. OSRAM has been producing premium lamps generating incomparable light as we keep improving product design and production processes.
OSRAM suggests customers purchase genuine OSRAM P-VIP® projector lamps/ bulbs through authorized distributors only.