While projectors may offer an immersive viewing experience in the home, business, or outdoors, they can also be expensive to maintain because you frequently need to replace the lights. Longer-lasting lamps on projectors save energy, are less expensive to maintain since they last longer before needing to be replaced, and are environmentally beneficial. These days, many halide projector bulbs last for 2,000 to 5,000 hours. While some, like LED bulbs, have a lifespan of up to 20,000 hours or more, less expensive solutions cannot be as bright as halide lamps.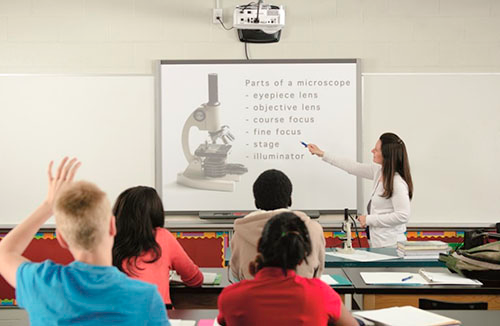 Image projection technology has advanced to the point that high-intensity projection equipment is now utilized in conference rooms, classrooms, and residences all around the world. Being a pioneer in the field, OSRAM provides high-performance P-VIP lights for both front and rear projectors. High-pressure mercury lamps known as P-VIP lamps are used in video projectors, projection TVs, and other projection applications.
By using genuine P-VIP replacement projection lamps, your good image will be protected and maintained for a long time. We're one of the original manufacturers of projection lamps, with over 110 years of lighting experience. The P-VIP brand is your assurance of a long lamp life with high light output and uniform light distribution. The result is a long-lasting image that is crisp, with consistent brightness and true colors. Due to their excellent quality and superior reliability, P-VIP lamps provide trouble-free operation throughout the life of the lamp leaving you with no worries and no hassles. A dense multi-line spectrum that is perfect for projection applications is produced from the mercury discharge spectrum by the very high operating pressure of more than 2200 bar Innovative R&D and cutting-edge manufacturing support OSRAM P-VIP lights, enabling the projection devices' ideal performance characteristics. The very high brightness offered by P-VIP lights is a necessary requirement for effective projection equipment. They also excel thanks to lengthy operational life and little loss of luminous flux throughout the course of their existence. Well-tailored to the lights, P-VIP lamp drivers guarantee not only the best working conditions but also deliver extra features necessary for the device. Variable light colors are available in sophisticated Unshaped operating modes that are tailored for data, video, or other operation modes.
Consumers sometimes struggle to tell if a product is genuine, a fake, or a subpar replica of a high-quality light due to the overwhelming quantity of inexpensive projection lamps sold by unidentified sellers. In addition to violating the intellectual property rights of light makers, replicas or counterfeit lamps are frequently made with subpar materials. Risks associated with such lights include poor picture quality, projector damage, and even complete projector loss. As a result, the pricing of counterfeit P-VIP lights does not accurately represent their full costs and hazards.
With the help of OSRAM's Verified Reseller Program, customers can be sure their lamp will work with their projector and aren't exposed to the inherent hazards of fake P-VIP bulbs. This increased customer confidence causes our Certified Reseller Program participants to be less reluctant to complete P-VIP transactions.
Distributors must fulfill requirements to become an OSRAM Certified Reseller. This comprises.
Keeping faith with the OSRAM line
Respecting branded goods, copyrights, and intellectual property rights, and using only truthful marketing and advertising materials
Directly purchasing P-VIP lights from OSRAM or a reputable OSRAM dealer
AMS OSRAM supplies its P-VIP® projection lights to a larger network of merchants through a global network of distributors. The whole P-VIP® line may then be made available to the aftermarket through these retailers. Both rear-projection television and commercial projector lights are available in the P-VIP® line. For information about P-VIP® stockiest in their area, end customers interested in P-VIP® lamps or P-VIP® technology can either get in touch with ams OSRAM directly or our distributors.