"OSRAM remains committed to offering the most exciting product line tailor-made for its valued customers. With OSRAM UV-C Lamps, we are contributing our bit to the general well-being and health of our customers who will get the best results in terms of purified and clean air, water and surface.  OSRAM UV-C Lamps come equipped with the latest European technology to offer strong competitive value to the users."André Köhler -Global Product Manager (Airfield, Medical, and UV)
As the world has been struggling to find a solution to destroy and contain the new coronavirus SARS-COV-2 which is responsible for COVID19 disease, the lighting industry all over the globe is coming up withUVC devices and sources in variant shapes and sizes. UV-C can inactivate malignant microorganisms and viruses safely by applying appropriate safety measures.

We spend a generous amount of time searching and purchasing products in supermarkets. These supermarkets, in recent years, have grown exponentially in size, and a significant number of people visit these throughout the year. Along with other essential aspects, these Supermarkets pay a lot of attention to consumer's comforting order to maintain footfall. The state-of-the-art air-conditioning systems keep the customer feel nice and cold through summertime and warm during winters.
The air-conditioning system within these supermarkets are immense and may become the breeding ground for biological pollutants such as bacteria, viruses, and fungal spores. Supermarkets need to take measures to make sure that the quality of air within these structures remains healthy, specifically during this difficult time.
A viable option to stop these pollutants from growing is the use of Ultraviolet (UV-C) purification. The purification effect is obtained with wavelengths below 320 nm, with maximum effectiveness at 260 nm. OSRAM PURITEC® HNS® UV-C germicidal lamps emit light at 254 nm, which is very close to the maximum effectiveness, and are ozone-free.
UV-C radiation is a proven technology that stops the growth of the bacteria by destroying their cell structure (DNA), which inhibits the pollutants from multiplying in size. It is a cost-effective way of getting rid of these harmful pathogens. UV-C germicidal lamps can be installed in the UV-C fixtured specifically developed for ventilation ducts, through which when the air passes, it effectively cleans the air coming out of the vents.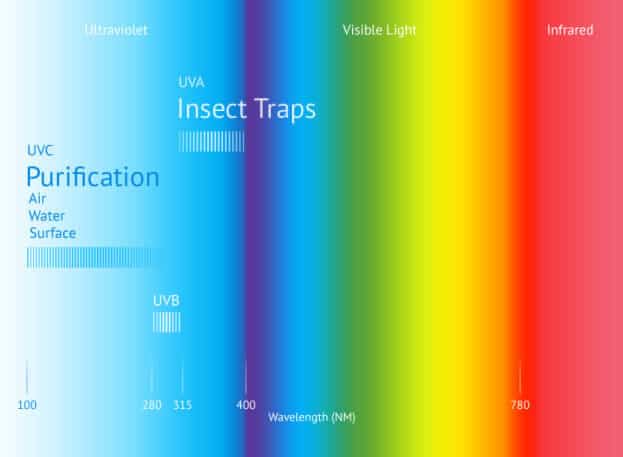 Application of HNS® UV-C lamps used in air purification devices for–Hospitals, Doctors' practices, Offices, Storage rooms, Food processing units, Restaurants, etc.
For detailed product specifications of HNS® UVC Lamps, please visit: https://www.osram.com/pia/applications/industry/purification/air_purification.jsp